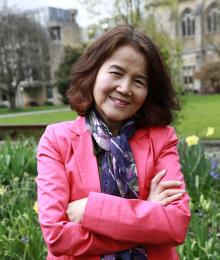 Sung Hee Kim has built many bridges between East and West, experiencing first the culture shock and then the joy of interpreting one nation to another. Her many years work in the broadcast media attracted millions of viewers. Having raised a family, she got a doctorate degree from Oxford University, Exeter College, in 2006 in the Faculty of English Language and Literature. Her PhD thesis concerned a comparison of metaphors in the printed media between English and Korean.
You can contact Sung Hee Kim via directorvfo@balliol.ox.ac.uk 
She has been a Visiting Professor at Seoul National University, South Korea for a number of years, she lead a collaboration in the subjects of engineering communication, project management, entrepreneurship and technology.
She created initiatives between many top Chines universities, including Xi'an Jiaotong-Liverpool University.
She is currently directing a project between Seoul National University, top university in Korea, and Oxford University. She recently launched a similar project in China, where she is a Visiting Professor of Marketing and Communication at Xi'an Jiaotong Liverpool University.  http://www.xjtlu.edu.cn/en/
Author of  "Life is Wonderful" published by Sam and Parkers , Korea
나는 어제보다 오늘이 좋다(Life is Wonderful)  저자,  쌤앤파커스 출판
Life is Wonderful 2nd Book Trailer
EBS Korean Radio features T-Talks
[EBS News] T-talks to Make Life Wonderful
English language interview on EBS Morning Special Programme
News Item about Sung Hee's appearance on 15 Minutes that Changed the World
Watch the video: 15 minutes that changed the World