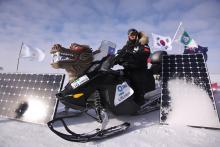 The first CO2 free expedition to the South Pole.
A foretaste of this year's predicted freezing winter was 'virtually' experienced at Balliol last week with a showing of the Korean SBS (Seoul Broadcasting System) funded documentary 'Antarctica, Land of Future'. Organised by Voices from Oxford and with multiple award winner Un-Hoon Shin (producer), taking questions this was a must for anyone concerned about global warming.
Billed as the World's first CO2 free expedition to Antarctica it tells a story of human endeavour and adventure but is also a film with a serious purpose – raising awareness of the potential for eco-friendly energy to get you to your destination even in the harshest of conditions.
The main, by the end somewhat jaded, stars of the show are two eco-mobiles which were developed specifically for the expedition. Each powered by twelve 210W solar modules, a 5KW electric motor and a 48v/100AH LiFePO4 battery they were theoretically capable of producing approximately 2kwh with an average speed of 20kph. The expedition's goal was to travel 60km a day. In practice they averaged 30km getting to the pole only after 41 days of 'sneaky clouds', whiteouts and blizzards.
Clearing ice off the solar panels and keeping them from damage in order to recharge the batteries was a daily battle made more critical because the panels work in pairs – one is broken and you lose two. Meanwhile the stress on the mobile's motors of miles of sastrugi (hard packed, windblown, striated snow) eventually resulted in burn out. In the end only an expensive aircraft drop of two replacements salvaged victory from defeat. Not quite your normal trip down the road to get the car going again!
That the expedition succeeded, confounding the polar experts' warnings that to cross the Antarctic using only eco-power was impossible, was certainly due to the leadership of Young-Seok Park (backed up at base camp by Un-Hoon Shin). 'Captain' Park – a super-hero climber getting to the top of all 14 of the world's 'Eight-Thousanders' , as well as the highest peaks in each of the seven continents, and trekking on foot to both Poles' – was clearly no stranger to harsh conditions. However, his increasingly trenchant communications with base camp about 'those machines' strongly suggested that his preferred methods of transport were his own two feet!
With excellent filming of deep blue Antarctic skies and brilliant ice fields it is all too easy in such documentaries to lose the plot. But no – we see also the excruciating daily grind of packing and unpacking the (heavy) solar panels, setting them up (taking 2 hours at the beginning of the expedition, 15 minutes by the end), walking to save battery power, pushing the 'turtle ship' trailer up slopes too hard for the mobile on its own, endlessly digging out equipment buried in snow. We also learn about the two-years of planning and preparation by Un-Hoon Shin and SBS as we watch the eco-mobile being tested on an indoor artificial ski slope – subbing (inadequately) for Antarctica.
The expedition claimed it was "a great experiment for our future when we run out of fossil fuels such as oil". It was certainly an experiment and, within its own terms, it succeeded – though perhaps not quite clearly enough to persuade many UK viewers to feel comfortable about relying too heavily on solar power (especially after the summer of 2012). On the other hand it is a brilliant demonstration of human ingenuity in the face of extreme difficulty. Tragically Young-Seok Park died attempting a new route up Annapurna in October 2011, not long after completing the Antarctic trip. Perhaps the last word should therefore go to him. Asked earlier why he had undertaken this eco-mobile expedition, Park simply said: "The world belongs to those who dare".
Peggotty Graham, Review Editor, Voices from Oxford December 2012