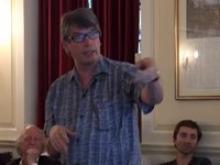 In the early 1970's Nik Powell set up Virgin Records with Richard Branson and in the space of ten years the pair turned a small mail-order record operation into a multi-million pound conglomerate.
In 1982 Powell went into partnership with Stephen Woolley, having sold out from Virgin in the previous year. Together they formed Palace Video, followed by Palace Pictures, and then Palace Productions, soon establishing each as highly regarded entities within the film distribution and production industry. Powell has acted as Executive Producer on all of Palace's productions including Neil Jordan's COMPANY OF WOLVES, OSCAR NOMINATED MONA LISA, Michael Caton-Jones' SCANDAL, and Neil Jordan's multi Oscar nominated THE CRYING GAME.
Nik and Stephen Woolley's new company Scala produced Iain Softley's BACKBEAT, Terence Davies' THE NEON BIBLE, Shane Meadows' TWENTYFOUR: SEVEN, Mark Herman's Oscar and Golden Globe nominated LITTLE VOICE, Fred Schepisis' LAST ORDERS starring Michael Caine, Bob Hoskins, Tom Courtenay, Helen Mirren, David Hemmings and Ray Winstone, Charles Dance's LADIES IN LAVENDER, starring Dame Judi Dench, Dame Maggie Smith, Miriam Margolis and Daniel Bruer and Nik also executive produced CALENDAR GIRLS.
Nik was appointed Director of the National Film and Television School in 2005, although he remains as non-executive chairman of Scala Productions.