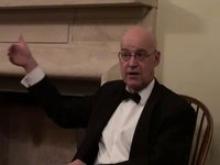 Professor Andrew Hamilton was admitted as Vice-Chancellor of the University of Oxford on 6 October 2009.
Professor Hamilton, BSc, MSc, PhD, FRS, read chemistry at the University of Exeter. After studying for a master's degree at the University of British Columbia, he received his PhD from Cambridge University in 1980 and then spent a post-doctoral period at the Université Louis Pasteur in Strasbourg.
In 1981 he was appointed Assistant Professor of Chemistry at Princeton University then in 1988 served as a department chair and Professor of Chemistry at the University of Pittsburgh. He joined Yale in 1997 and was a Provost of Yale from 2004 until October 2008 where he combined a wide-range of administrative duties with teaching and research.