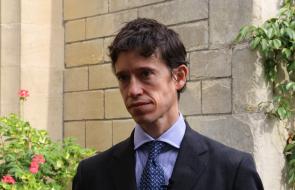 Rory Stewart OBE was educated at Balliol College, Oxford, studying history and PPE (Politics, Philosophy and Economics). He joined the British Diplomatic Service, and served in the British Embassy in Indonesia and, in the wake of the Kosovo campaign, as the British Representative in Montenegro.

From 2000-2002 he walked on foot across Pakistan, Iran, Afghanistan, India and Nepal, a journey of 6000 miles. His walk across Afghanistan shortly after the US invasion is described in his award winning book, The Places in Between, a New York Times bestseller, translated into ten languages.

In 2003, he became coalition Deputy Governor of two provinces in the Marsh Arab region of Southern Iraq (Maysan and Dhi Qar). His second book, The Prince of the Marshes and Other Occupational Hazards of a Year in Iraq, outlines his experiences as deputy governor shortly after coalition forces entered Iraq, and describes his efforts to lead development projects and establish a functional government.

Rory has written for a range of publications and has won a number of international awards for his writing, including from the Royal Society of Literature Ondaatje award (2004) to the Radio France award (2009). He has also received an honorary doctorate from the University of Stirling. In 2004, he was awarded the Order of the British Empire and became a Fellow of the Carr Centre at Harvard University.

Rory lived in Kabul from 2006-2008, where he was the founder and Chief Executive of Turquoise Mountain, a non-profit, non-governmental organisation investing in the development of Afghanistan's traditional crafts and the rehabilitation of the commercial heart of the old city of Kabul in order to preserve cultural heritage, improve living conditions and create economic opportunities.

Rory was appointed to a professorial chair at Harvard University as the Ryan Family Professor of Human Rights on 1st January 2009 and became Director of the Carr Center for Human Rights Policy at the Harvard Kennedy School. He was elected as the Conservative Parliamentary candidate for Penrith and the Border by an open-primary meeting (open to all registered voters, regardless of party) in October 2009. He was elected as Member of Parliament on 6th May 2010.