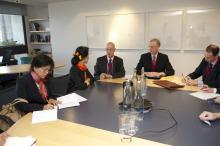 (Photo: Aung San Suu Kyi with Vice-Chancellor , Prof Andrew Hamilton, Pro-Vice-Chancellor Prof Nick Rawlins)
On his release after 27 years of prison, Nelson Mandela reached out towards those who imprisoned him and saved his country by making it clear that he wanted peace and tolerance, not revenge and war.
That was his dream, and he lived it.
Aung San Suu Kyi must also have dreamed while she was under house arrest all those fifteen long years. She told us part of that dream when she finally received her honorary degree from Oxford University: 'please help my country's universities to recover, and to work again at international level!'
In this video, Nick Rawlins explains how Oxford University is responding to that heartfelt challenge, helping Yangon University to rebuild itself, by training students and faculty.
Voices from Oxford celebrates this outreach to Myanmar by broadcasting this project to the world.
We could not ignore also the fact that Nick Rawlins is a very distinguished medical scientist, working on the problem of pain as a behavioural neuroscientist. He discusses with Denis Noble, a physiologist, how treating the psychological problems of anxiety can be an effective way to enable people to cope with pain. This part of the interview recalls the video that Voices from Oxford produced of Mark Williams' talk to the Buddhism and Science series, showing the use of mindfulness meditation in the treatment of depression. As Nick Rawlins says, this is an area in which Oxford University is making real progress, helping people distressed by pain and depression throughout the world.
Voices from Oxford Team