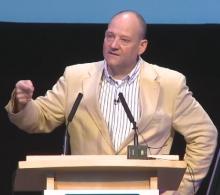 Video highlights from IUPS Congress
Pictured: A superstar of the show, Professor Russell Foster from Oxford, delivering a public lecture on The Rhythms of Life.
An interview with Russell Foster features in the VOX videos
Voices from Oxford was invited by the President of IUPS, Denis Noble, who is also a founder and presenter for VOX, to record some of the highlights from the World Congress held in July 2013 at the International Convention Centre in Birmingham and hosted by The Physiological Society. Attended by over 3000 scientists from around 100 countries worldwide, this is the Olympic games of physiological science. The intellectual peaks of physiology and medical science are here. VOX is adding to its already extensive series of medical science videos.
If it was ever true that physiology had moved off from centre stage,
it is now coming back with a vengeance (The President's Lecture)

To view a video, scroll down to click on the title below.
Plenary Lectures and ceremonies
Opening plenary: Physiology moves back onto centre stage. Denis Noble
The Rhythms of Life. Russell Foster
Pathological development of brain microvasculature. Elisabetta Dejana
Calcium signal mechanisms in secretory cells: physiology and pathology. Ole Petersen
Gastrointestinal hormones and the dialogue between gut and brain  Graham Dockray
Role of ATP – regulated potassium channels in pancreatic alpha- and beta-cells. Patrik Rorsman
An overview of Physiome activities. Peter Hunter
Peter Hunter Interviewed by Sung Hee Kim
Peter Hunter Interviewed by Denis Noble
Optical deconstruction of fully-assembled biological systems. Karl Deisseroth
The molecular mechanisms of signaling at chemical synapses. Eric Gouaux
Closing Ceremony – The Expansion of Physiology  Denis Noble
News Item on The progressive triumph of physiology over molecular biology
 
Symposia
Physiology and Evolution
How Life changes itself. The read-write (RW) Genome  James Shapiro
Relating genotypes to the phenotypes  Stig Omholt
The modern synthesis: extension or replacement  Gerd Muller
Cross-species cloning: influence of cytoplasmic factors on development Yonghua Sun
Ageing – Epigenetic mechanisms underlying lifelong health and wellbeing
Computational biology as a tool for reverse engineering genotype-phenotype relations  Chae Young Cha
 
Ageing and DNA Methylation: a role in fetal origins of adult disease?  Carmen Sapienza
Physiology of fasting and starvation
Alternate day fasting: a novel dietary restriction regimen for weight loss in humans  Krista Varady
Differential mobilization and use of fatty acids during fasting  Teresa Valencak
Thermoregulatory adaptations to starvation and cold in birds  Esa Hohtola
 
New advances in the Physiome and Systems Biology
Modelling the pulmonary physiome: integration of clinical data with multi-scale analysis  Merryn Tawhai
Multi-scale modelling of cardiac excitation-contraction coupling  Nicholas Smith
Stochastic multi-scale modelling of the neuro-musculoskeletal system  Marco Viceconti
 
Intracellular signalling microdomains in the heart
Spatial coupling between pH and Ca2+ in the ventricular myocyte  Pawel Swietach
Orchestration of signaling microdomains in heart by cytoskeleton and protein scaffolds  Jeffrey Saucerman
Compartmentalisation of nitric oxide synthase regulates Ca2+ signalling in heart  Yin Hua Zhang
Caveolae contribute to spatial control of cAMP within the cardiac cell  Sarah Calaghan
 
Aging and Exercise training
Maximising muscle protein synthesis: influence of nutrition and training modalities  Stuart Phillips