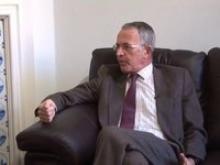 We continue our feature on climate change and COP27 by looking back at an interview recorded with Professor Andrew Goudie, who specialises in desert geomorphology, dust storms, weathering, and climatic change in the tropics. He has written or edited many books and received many awards and honours for his work. He has also been President of the Oxford Development Programme and a Pro-Vice-Chancellor of the University.
From fringe to centre stage
Sadly, these topics are more relevant now than ever as the "clock ticks" towards a tipping point of climate change. But nobody is better placed to chart us through climate issues than someone who has written around 30 books. Professor Goudie's first book, written in 1966, was called Climate Change. At this time, he began asking whether humans might be contributing to creating it. Addressing that question, he published a book, The Human Impact, in 1981, considering how human activity might impact the environment, from climate to soil erosion, drought and desertification. So much of this was considered a "fringe activity" of scholarship in the 1970s, yet now they are significant global concerns at COP27.
So, we hope you will find this interview with Andrew Goudie informative as we look back. So much has changed since it was recorded ten years ago, but not for the better. It also considers Oxford's contribution to understanding climate change and finding solutions to its problems. Can we reverse climate change and address its impact? Professor Goudie sets out what is necessary. You can judge whether we are heading in the right direction.
Post by Vox News Editor Ray Noble