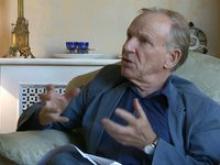 Nick Rawlins is Pro-Vice-Chancellor (Development & External Affairs), University of Oxford and Professorial Fellow of Wolfson College. His research lies broadly within behavioural neuroscience, and spans areas including the neural basis of memory, brain degeneration, and pain and anxiety. He was elected Fellow of the Academy of Medical Sciences in 2006, and became Associate Head of Oxford's Medical Sciences Division in 2008. He was a Fellow of University College for more than 20 years, serving as Development Fellow at the college from 2001 to 2007 before moving to Wolfson College as a Professorial Fellow.

Andrew Graham graduated from Oxford University in 1964 having read PPE. He worked at the National Economic Development Office and then at the Department of Economic Affairs, before becoming assistant to the then Economic Advisor to the Cabinet, Thomas Balogh. He then became Economic Adviser to Prime Minister Harold Wilson (1967-1969) returning to Downing Street as Chief Economist in the Prime Minister's Policy Unit (1974-76). From 1988 to 1994 he was Economic Adviser to the Shadow Chancellor and later Leader of the Labour Party, the Rt. Hon. John Smith MP.
Dr. Graham was a Tutorial Fellow in Economics at Balliol College (1969-97) and Acting Master of Balliol from 1997 to 2001. He has been a member of the Committee to Review the Functioning of the Financial Institutions (1977-80); a Non-Executive Director of the British Transport Docks Board (1979-82); a member of the Media Advisory Committee of the IPPR (1994-97) and throughout the 1990s a consultant to the BBC on the principles underlying public service broadcasting. In 2001, with the help of a donation from The Shirley Foundation, he founded the Oxford Internet Institute (OII) and was Acting Director during its first year of operation. He became a Board Member of Channel 4 Television (1998-2005), a Trustee of the Esmee Fairbairn Foundation (2004-2006) and an elected member of the Council of Oxford University. He has been a Director of the Scott Trust (which owns the Guardian and The Observer) since 2005. He holds an Honorary Degree of Civil Law at Oxford University. He is a passionate windsurfer and his wife, Peggotty, was, until recently, Dean of Social Sciences at the Open University.
Dr. Andrew Graham was elected Master in 2001. In 2006 Balliol College revised its statutes to extend his term of office.
Some broadcasts by Dr Andrew Graham:
MESSAGE TO BALLIOL ALUMNI DECEMBER 2011
MESSAGE TO BALLIOL ALUMNI MARCH 2011
FAREWELL MESSAGE FROM ARCHIVE CENTRE