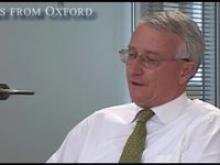 Dr John Hood was Vice-Chancellor of the University of Oxford from October 2004 to September 2009. He was previously Vice-Chancellor of the University of Auckland, a post he held since February 1999. He gained his PhD in Engineering from Auckland and a Master of Philosophy in Management Studies from Oxford University where he was a Rhodes Scholar.
Dr Hood spent 19 years with one of New Zealand's largest companies, Fletcher Challenge Ltd. There he held senior positions and headed, at various times, its Paper, Building and Construction arms. He has been a chairman and director of public and private companies in New Zealand and offshore. He is currently a Non-Executive Director of BG Group and is a member of the UK Government's Business Ambassadors Network which was formally launched on 10 February 2009.
His interests in business, sport and education have involved a wide range of roles, including directorships of both ASB Bank Limited and Fonterra Co-operative Group Limited, chairmanship of Tonkin & Taylor Limited, The Knowledge Wave Trust, the New Zealand Vice-Chancellors' Committee, and Universitas 21, and membership of the Prime Minister's Growth and Innovation Advisory Board and the Council of The University of Melbourne.