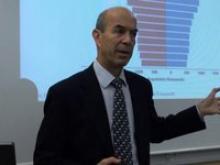 Professor Ian Goldin took up his position as the first Director of the School in September 2006.
Ian Goldin was Vice President of the World Bank (2003-2006) and prior to that the Bank's Director of Development Policy (2001-2003). He served on the Bank's senior management team and led the Bank's collaboration with the United Nations and other partners. As Director of Development Policy, he played a pivotal role in the research and strategy agenda of the Bank.

From 1996 to 2001 he was Chief Executive and Managing Director of the Development Bank of Southern Africa and served as an advisor to President Nelson Mandela. He succeeded in transforming the Bank to become the leading agent of development in the 14 countries of Southern Africa. During this period, Goldin served on several Government committees and Boards, and was Finance Director for South Africa's Olympic Bid.