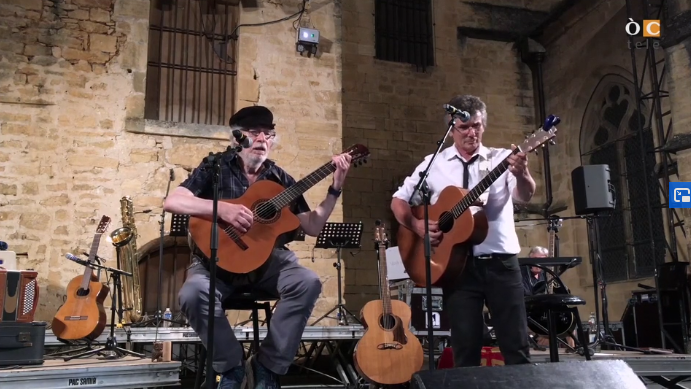 The last concert by the OXFORD TROBADORS, in 2019 before the pandemic, was filmed by Voices from Oxford and by a documentary film company OC TELE based in Bordeaux.
The documentary has been shortlisted for the International Film Festival running this week in Luchon in the Pyrenees, France. The documentary, entitled OXFORD TROBADORS will be screened at the Festival climax this Sunday, 14th March.
The documentary film features:
The 2019 concert in the Holywell Music Room in Oxford
Research on Occitan language and culture at Oxford University — Xavier Bach explains, in Occitan, the university's extensive library collection on the Occitan language and culture
A concert in Sarlat in the heart of the Perigord by invitation of PEIRAGUDA featuring Jaufre Rudel's (1180) troubadour song Lo Riu de la Fontana
Scenes from Toretas, the house in the Perigord where the OXFORD TROBADORS originated
Magnificent filming of the resting place of the Plantagenets at the Abbey of Fontevraud, explained in Occitan by the historian Katy Bernard, to weave back to dancing finales at the concert in Oxford.
In just under one hour the film covers eight centuries of history, the state of occitan culture in medieval and modern France, the historic connections between Aquitaine and England, all connected through the extraordinary flourishing of the culture in the birthplace (Oxford) of two of the Plantagenet Kings, Richard and John, sons of Alienor of Aquitaine.
Whether or not this documentary is finally selected as the winner, it is already a great success for the OC TELE producer, Sebastien Hondelatte, to be shortlisted, for Voices from Oxford, which sponsors the concerts, and for the OXFORD TROBADORS musicians.
Link to Documentary on OC TELE website
Link to VOX videos of the 2017 concert with NADAU and Peiraguda